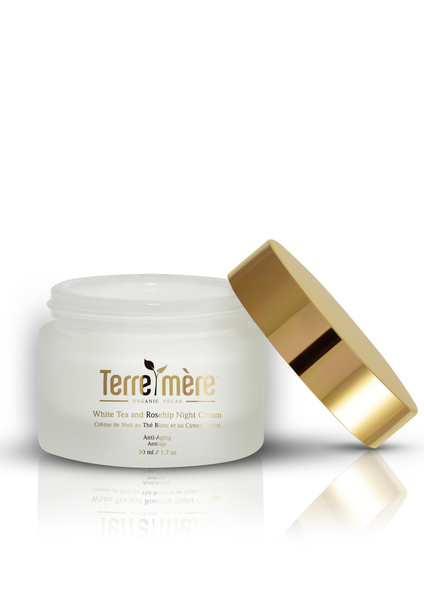 White Tea and Rosehip Night Cream
Product Information
Details
More Info
Ingredients
About Terre Mere Cosmetics
What it is

Our luscious intensive night cream has the perfect balance of vitamins, anti-aging components and hydrating action, so your skin will be nourished and revitalized as you sleep. We have combined white tea, rich in anti-oxidants with rosehip, a powerful source of essential fatty acids, Rooibos tea to stimulate cell renewal, and aloe and jojoba for their anti-ageing properties. This unique formula will nurture fortify your skin, leaving it radiant, smooth and deeply hydrated.

How to use

Night cream is more intensive and nutrient-rich than daily moisturizer, to help skin replenish while you're relaxed and asleep. After cleansing and toning, gently smooth the cream into your skin, working upwards from your neck in a gentle circular motion.

Aloe barbadensis (Organic Aloe) Juice, Simmondsia chinensis (Organic Jojoba) Oil, Lavandula x intermedia 'super' (Organic Lavender) Extract, Olea europaea (Organic Olive) Oil, Emulsifying Wax, Elaeis guineensis (Organic Palm) Oil, Palm Stearic Acid,Aspalathus lineans (Organic Rooibos Tea) Tincture, Vegetable Glycerin,Rosa mosqueta (Rosehip) Seed Oil, MSM (Methylsulfonylmethane),Dimethylaminoethanol (DMAE),Calendula officinalis (Organic Calendula) Extract, Sodium Hyaluronate (Hyaluronic acid), Tocopherol (Vitamin E), Ascorbyl Palmitate (Vitamin C Ester), dl-Panthenol (Pro-Vitamin B5), Daucus carota (Carrot Seed) Oil, Retinol Palmitate (Vitamin A),Camellia sinensis (Organic White Tea) Extract, Xanthan Gum (Polysaccharide Gum), (May contain sodium bicarbonate and/or citric acid as pH adjusters).

Terre Mère Cosmetics is an organic-Vegan company that was established to provide solutions for consumers who choose high quality natural beauty products. Our goal is to create healthy beneficial products that will restore people's faith in nature.
Customer Ratings & Reviews
Questions About this Product