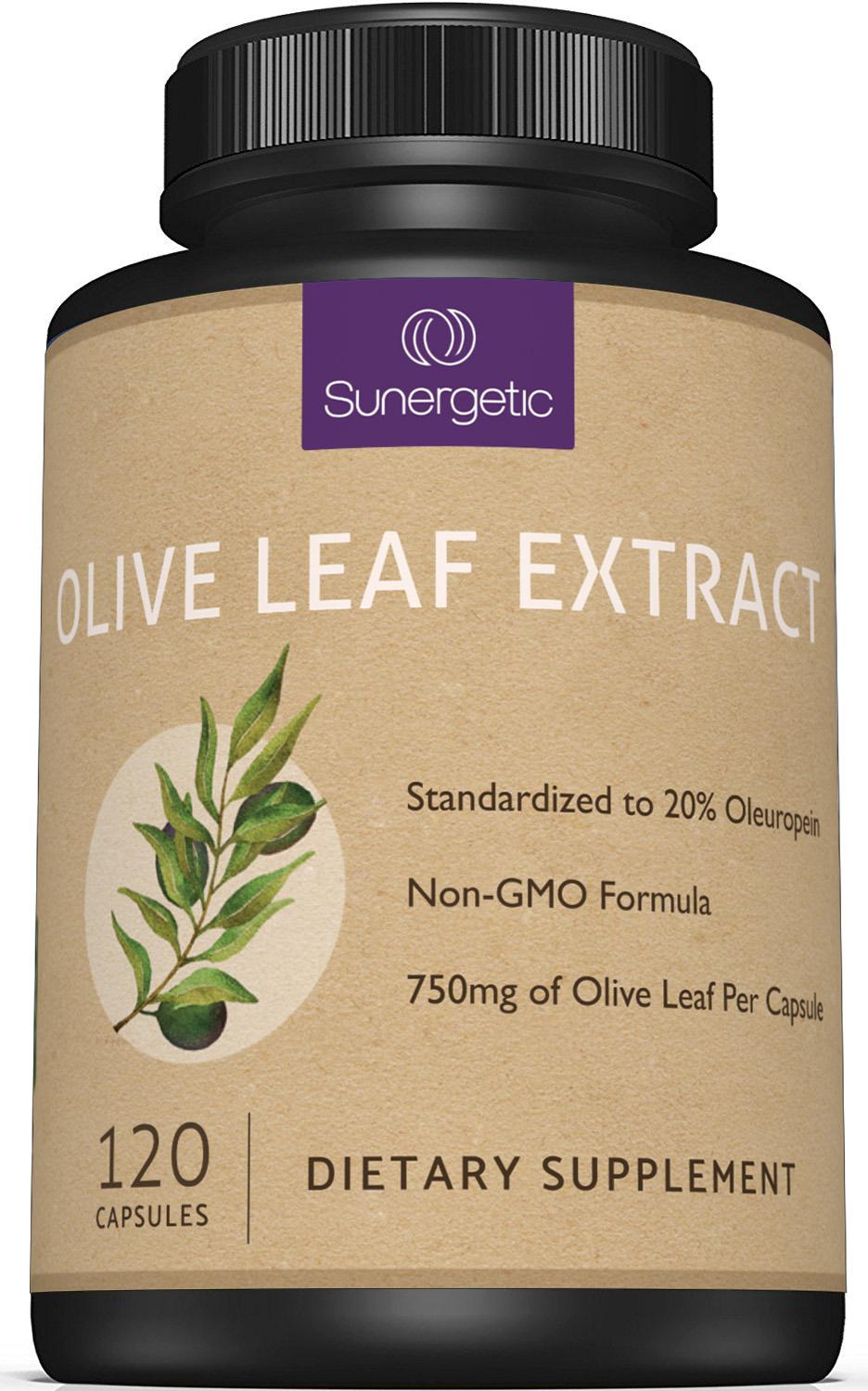 Sunergetic Olive Leaf Extract - 750mg Per Capsule
Product Information
Have questions? Call:

866-839-5329
Details
More Info
Ingredients
About Sunergetic
What it is

POWERFUL OLIVE LEAF EXTRACT CAPSULES: Experience the benefits of our Olive Leaf Extract Supplement. Our Olive Leaf capsules are standardized to 20% Oleuropein and contain 750mg of Olive Leaf per capsule to ensure you get a high quality dose in just one small capsule.

HELPS SUPPORT A HEALTHY IMMUNE SYSTEM: Olive Leaf Extract helps support a healthy immune system and helps support cardiovascular health.* The Olive tree (Olea europaea) has been an important part of Mediterranean culture and used by herbalists for many years.

STANDARDIZED TO 20% OLEUROPEIN: Each Olive Leaf Extract capsule in our formula is standardized to contain 150mg of Oleuropein. Some brands standardize their Olive Leaf Supplements to as low as 6% Oleuropein. Our olive Leaf Extract is standardized to provide 20% Oleuropein, which is a powerful polyphenol.

Non-GMO Olive Leaf Supplement: Our Olive Leaf Supplement is Non-GMO. Our formula is vegetarian and without preservatives. Our Olive Leaf Capsules are easy to swallow and are made with a high quality Olive Leaf Extract.

Commitment to Quality: Our Olive Leaf Supplement is manufactured in an FDA registered facility that adheres to Good Manufacturing Practices (GMP). We are committed to maintaining high quality supplements.

365 Day Satisfaction Guarantee: Sunergetic offers a no questions asked unconditional 100% money back guarantee because we are very confident you will love our supplements and we want to give you enough time to experience the results. If you're not satisfied for any reason on your most recent purchase, just email us at hello@sunergeticproducts.com or give us a call and we will be happy to help.

Click the 'Add to cart' button now to try our Olive Leaf Supplement!

Key benefits

Sunergetic Olive Leaf Extract Formula:

-Helps Support Cardiovascular Health*

-Helps Support Immune System*

How to use

1 capsule taken 1 to 2 times daily preferably with meals or as directed by a healthcare professional

Made in

Made in the USA with globally sourced ingredients

Olive Leaf (20% Extract) 750 mg

At Sunergetic we believe in utilizing premium herbs and ingredients and herbs to create powerful supplements. Feeding your body with high quality foods and supplement can help you make incredible breakthroughs with your health. All Sunergetic supplements are formulated with high quality herbs designed to help support your health. Even the most health conscious among us might not be able to get everything they need from diet and lifestyle changes alone. Try Sunergetic Products Today!
Customer Ratings & Reviews
Questions About this Product