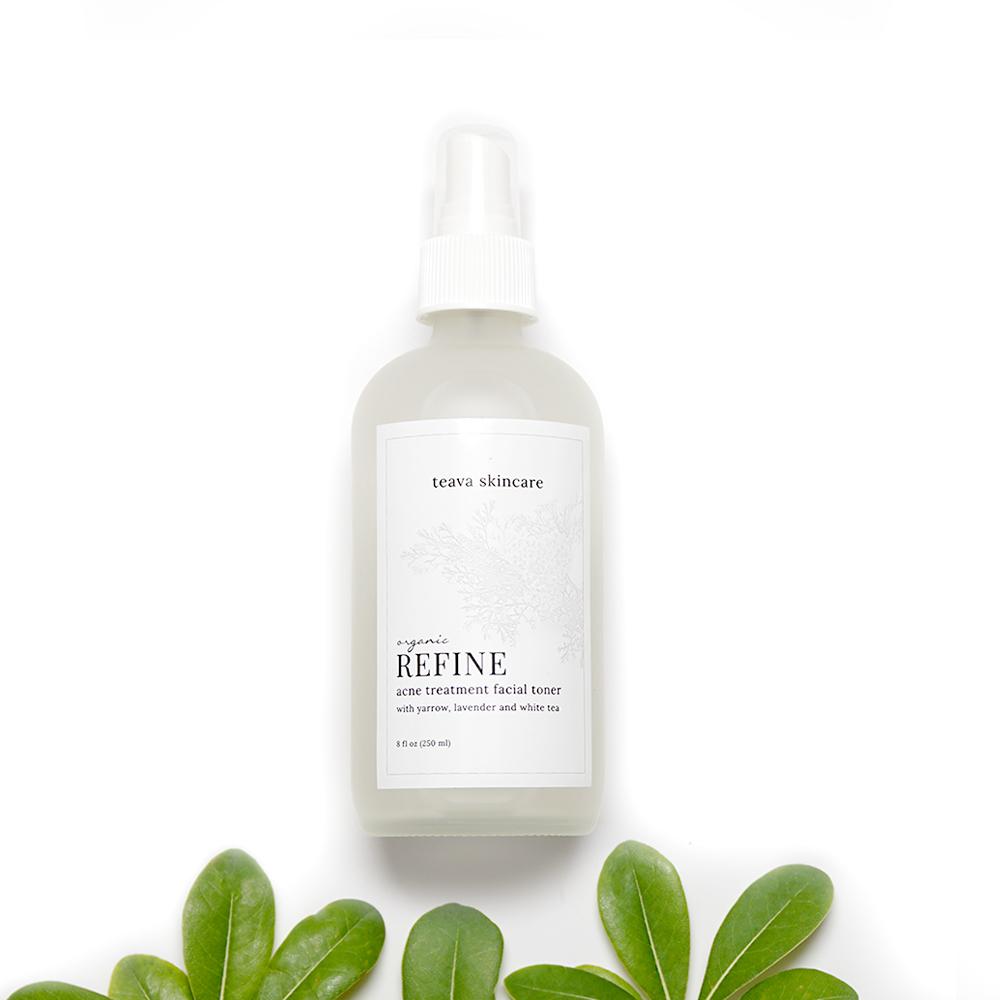 Refine Organic Acne Treatment Facial Toner
Product Information
Details
More Info
Ingredients
About Teava Skincare
What it is

An acne toner that clarifies and tones to combat acne and control oil production. This alcohol-free astringent will refresh skin, tame acne, minimize oil, and shrink pores. Naturally antibacterial and anti-inflammatory, white tea and yarrow soothe irritated skin, destroy bacteria and dissolve impurities. Green tea is clinically proven to reduce sebum production helping to reduce oily skin. Lavender restores balance and moisturizes the skin.

Key benefits

▻ White Tea kills acne causing bacteria, anti-inflammatory properties reduce the appearance of existing breakouts, and provides antioxidant protection against free radical damage.
▻ Yarrow acts as an astringent to gently cleanse the skin, while its potent antibacterial and anti-inflammatory properties kill and reduce the signs of breakouts, blemishes, and zits.
▻ Green Tea is clinically proven to reduce sebum production reducing oily skin.
▻ Lavender calms the skin by imparting a gentle cooling sensation.

How to use

Soak a clean cotton ball or pad with Refine Organic Acne Treatment Facial Toner. Use the cotton ball or pad to gently massage the freshly cleansed skin.

"After one use, I saw a big improvement. Skin looks cleaner, fresh, and matte. Oil is all gone which is the cause of all the breakouts." - Tara

Organic Green Tea Distillate
Organic Yarrow Hydrosol
Organic Lavender Hydrosol
Organic Vegetable Glycerin
Organic White Tea Extract
Organic Aloe Vera
Gluconolactone, sodium benzoate, calcium gluconate (ECOCERT Natural Preservative)

Teava Skincare is advanced organic skincare. Scientifically formulated by Dr. Mim, who holds a degree in biochemisty and a PhD in toxicology. Each product uses organic botanicals and natural materials that are proven to effectively treat and heal the skin. See real results in your skin using natural, gentle, nontoxic Teava Skincare.
Customer Ratings & Reviews
Questions About this Product