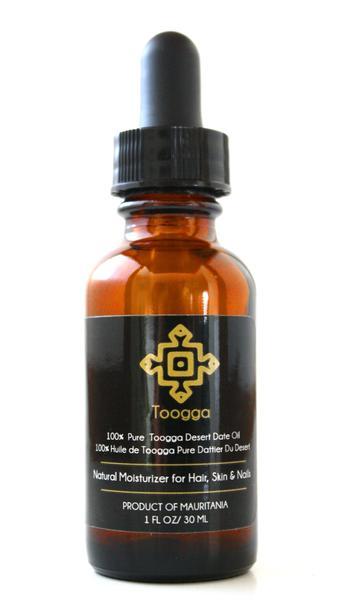 Organic Desert Date Oil for Face, Body and Hair
Product Information
Details
More Info
Ingredients
About Toogga
What it is

100% Organic Wild Toogga Desert Date Oil, Vegan and Cruelty Free. Our Cosmetic Desert Date Oil is unroasted and cold extracted from the Toogga Nut. All the nutritious virtues of this oil are kept intact.

The oil comes in an amber bottle which protect the oil from light and damage. We source our Toogga Desert Date Nut from "The Badely Women's Cooperative" and process the oil in our facilities in Nouakchott, Mauritania.

The Toogga project also partners with Trees for the future where we plant a tree for every product sold!

Sustainably produced in small batches to ensure the highest potency and quality.

Benefits of Toogga Oil

Toogga Oil is easily absorbed into the skin and is very rich in antioxidants and unsaturated fatty acids (72% omega-6 and omega-9)
It reduces wrinkles and regenerates healthy skin.
It has excellent anti-microbial and anti-fungal properties which helps in healing scars and alleviating acne, sunburns and rashes.

How to use

Store in a cool dry place. No need to refrigerate-

Pure Wild Harvested Desert Date Oil (balanites aegyptiaca)

At Toogga, we believe in Health and beauty with a conscience. We are a social business that specializes in producing sustainably harvested organic, natural, non-toxic skincare and nutritional products based on native ingredients sourced directly from the Sahel Region. We are committed to the communities we work with, respect for earth and self, and to giving back. Toogga is a sustainable operation that is generating increased incomes, new jobs, new skills and opportunities.
Customer Ratings & Reviews
Most recent reviews
I've used this as my facial moisturizer for over a year and I can't live without it!

By Amy Z. on Jul 31, 17
Has become an essential part of my skincare routine

By Liz M. on Jul 31, 17
Love that this product isn't heavy, so it's a great facial oil. I use it every day. Haven't tried it on my hair, but it would probably be just as good, as my hair is fine.

By Denise D. on Jul 31, 17
This is my second bottle of the date oil, I absolutely love it!

By Amanda Wilson on Jul 31, 17
Questions About this Product