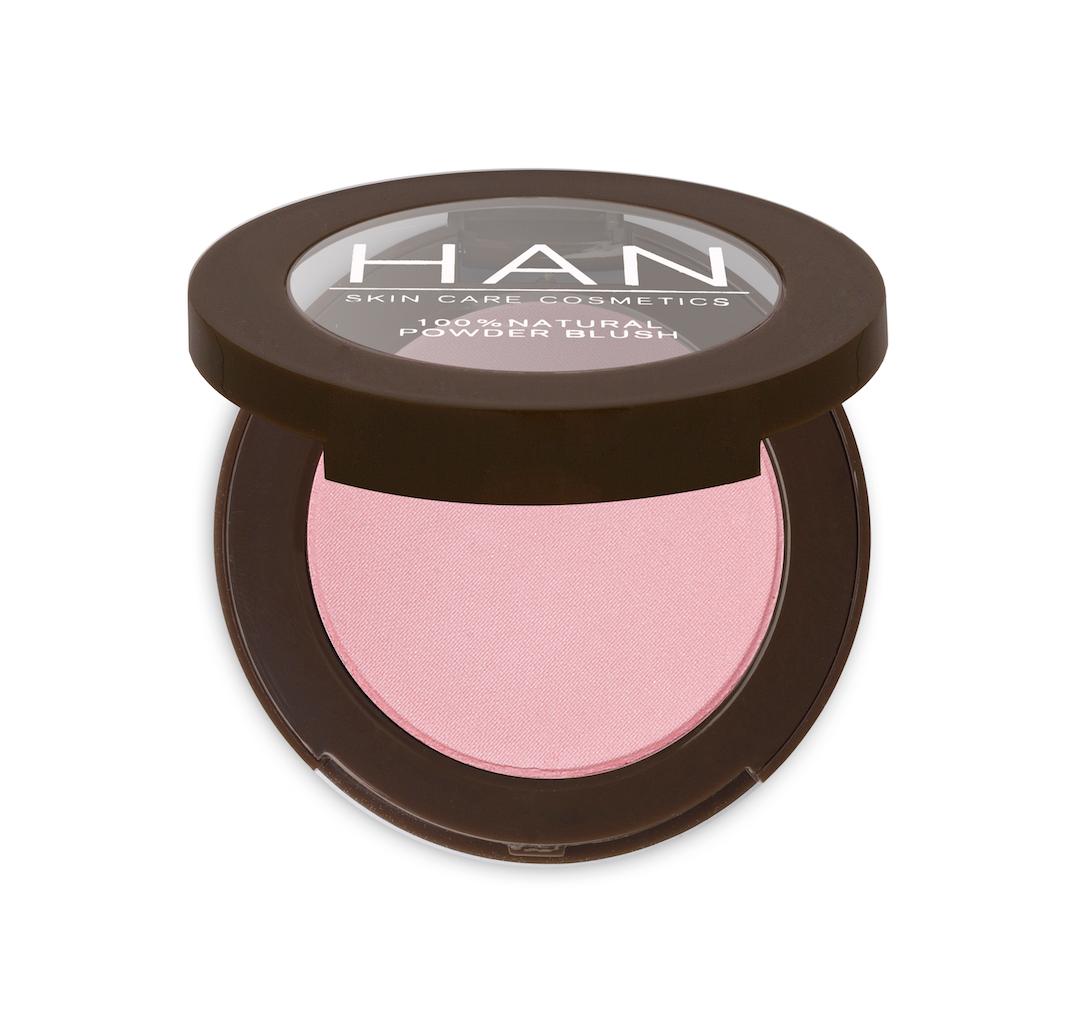 HAN Skin Care Cosmetics Pressed Blush - Baby Pink
Product Information
Details
More Info
About HAN Skin Care Cosmetics
What it is

Our range of all natural pressed blush is made with soothing rice powder instead of talc and offers beautiful color with skin care benefits from vegetables and fruits and other healthful anti-aging ingredients.

* Our pressed blush is TALC-FREE and alternatively made with oil-absorbing rice powder that delivers a smooth finish
* Nutrient dense formula that delivers beautiful rich color from vegetables and fruit sources
* Versatile and gentle blush that can be worn as eye shadow too
* Vegan, Healthy and All Natural

HAN Skin Care Cosmetics is the new generation of clean and green, all natural, antioxidant enhanced and reasonably priced cosmetics made with shea butter, argan and acai oils, superfruits, tea extracts and colored from plant and vegetable pigments, such as beetroot, pink carrot and rose, and pure minerals. FREE of toxic chemicals, artificial dyes and colorants, synthetic fragrance, gluten, talc, nanoparticles, petrochemicals, animal cruelty and carmine! PETA approved and Leaping Bunny certified.
Customer Ratings & Reviews
Most recent reviews
This matte baby pink blush is super natural looking and buildable. I love the soft texture and the ingredients! It doesn't contain any coconut so it doesn't break out my sensitive skin. I hope they come out with more blush shades like a dusty rose mauve!!

By Linda Sau on Jul 10, 17
This is such a great buy, it's a full sized blush with great ingredients and it doubles as an eyeshadow! The shades are flattering and buildable. The baby pink is super pretty on fair tones. I have it in the coral candy, I apply it light for everyday and a little more when going out in the evening.

By Liana G on Jul 10, 17
This is non-toxic and I ordered it for this reason. Trying to get into clean and quality make-up products. I apply it with my finger and it is a lighter pink, but stays all day.

By Brittney N on May 25, 17
I LOVE this blush! It is a perfect pretty pale pink and it lasts for hours :) I am happy I found this brand and am excited to try other colors!!

By Vandell V on May 22, 17
Questions About this Product