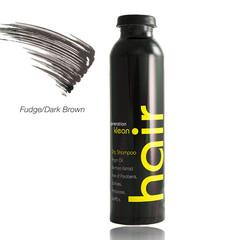 Generation Klean (NON GMO) Dry Hair Shampoo (Fudge/Dark Brown)
Product Information
Details
More Info
Ingredients
About Generation Klean
What it is

Amazing 3 in 1 dry shampoo (NON-GMO) which not only cleanses and volumizes hair, but also can be used to fill in any bald spots.

Key benefits

Key Benefits:
Fabulous 3 in 1 Dry Shampoo
Cleans Hair Without Water
Cleanses Hair Instantly
Adds Volume Boost
Comes in 4 Beautiful Shades
FREE of Parabens, Sulfates, Glycols, Phthalates & PPDs
Fill-In Powder that Immediately Covers Any Hair-Loss or Balding Spots
NON GMO
Contains SHINE Building Argan Oil and Bamboo Extract
Celebrity Favorite

How to use

Twist cap and shake a small amount of powder to hands and massage through scalp. Brush through and style as necessary. For use on dry hair only. Keep out of reach of children.

ZEA MAYS(CORN) STARCH
SILICA
SODIUM DEHYDROACETATE
FRAGRANCE
ARGAN SPINOSA (ARGAN) OIL
BAMBUSA VULGARIS WHOLE PLANT EXTRACT
MAY CONTAIN:
IRON OXIDES CI 77491, CI 77492, CI 77499
TITANIUM DIOXIDE CI 77891

Generation Klean was born after a very frightening cancer scare left Co-Founder, Jasmine Abedi, desperately searching for well-functioning cosmetic and hair products that were void of toxic chemicals linked to many growing cancers among men and women. Given the limited availability of these products, Generation Klean was born to provide men and women with a healthier and trend setting alternative that far surpasses the world's most popular cosmetic and hair brands.
Customer Ratings & Reviews
Most recent reviews
Using this I can probably wash my hair only once a month! Except my husband starts complaining about other hygiene issues. Lol. Love it! That's all I can say.

By Aida Mazaheri on Jul 19, 17
I love this product! It feels extremely light and build up free. It does a great job of covering my grays and keeping me from overwashing so much. As a result, my hair is naturally becoming less oily. Woohoo! I would definitely recommend.

By G Ford on Jul 19, 17
Smells delightful. A bit hard to apply since it's not a continuous spray. Absorbs oil, does what it says. Fudge Dark Brown works well for my jet black Asian hair. I only open the twist top half way so the holes are half the size. Makes the sprinkling a little less messy.

By Kate Slater on Jul 19, 17
The trick to not using too much of this product, in my opinion, is to leave the dial top in the closed position--plenty of powder still comes out, but not a deluge. I also cleaned an old makeup brush and use that to dust the powder on--this controls the application very well.

By Keri Larson on Jul 19, 17
Questions About this Product