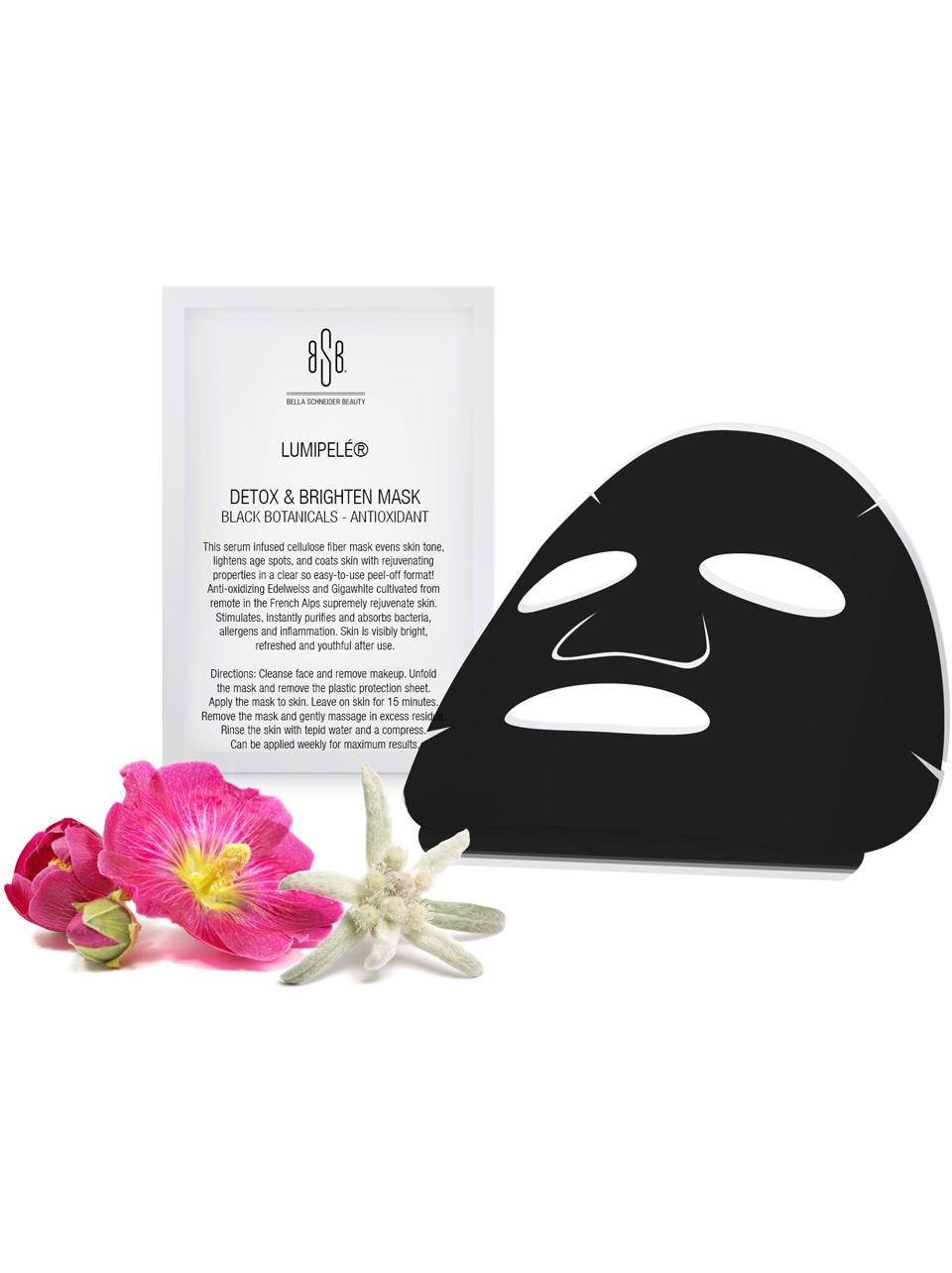 Detox & Brighten Mask Black Botanicals - Antioxidant (Set of 3)
Product Information
Have questions? Call:

650-326-8522
Details
More Info
Ingredients
About Bella Schneider Beauty
What it is

This serum infused cellulose fiber mask evens skin tone, lightens age spots, and coats skin with rejuvenating properties in a clear so easy-to-use peel-off format! Anti-oxidizing Edelweiss and Gigawhite cultivated from remote in the French Alps supremely rejuvenate skin. Stimulates, instantly purifies and absorbs bacteria, allergens and inflammation. Skin is visibly bright, refreshed and youthful after use.

Key benefits

Skin is visibly bright, refreshed and youthful after use

How to use

Cleanse face and remove makeup. Unfold the mask and remove the plastic protection sheet. Apply the mask to skin. Leave on skin for 15 minutes. Remove the mask and gently massage in excess residue. Rinse the skin with tepid water and a compress. Can be applied weekly for maximum results.

Water, Glycerin, Pentylene Glycol, Xanthan Gum, Polysorbate 20, Fragrance, Alcohol, Tetrasodium Glutamate Diacetate, Citric Acid, Achillea Millefolium Extract, Alchemilla Vulgaris Extract, Malva Sylvestris (Mallow) Extract, Melissa Officinalis Leaf Extract, Mentha Piperita (Peppermint) Leaf Extract, Primula Veris Extract, Veronica Officinalis Extract, Leontopodium Alpinum Flower Extract, Sodium Hydroxide.

Bella Schneider Beauty (BSB) is the culmination of 40 years of clinical experience, bringing together the most advanced skincare science, time-tested ingredients and leading-edge technologies in one extraordinary collection. BSB combines proprietary blends of ingredients from around the world to give you unprecedented results. BSB products are regularly featured in national media outlets such as Cosmopolitan, InStyle, Refinery29 and Huffington Post.
Customer Ratings & Reviews
Questions About this Product