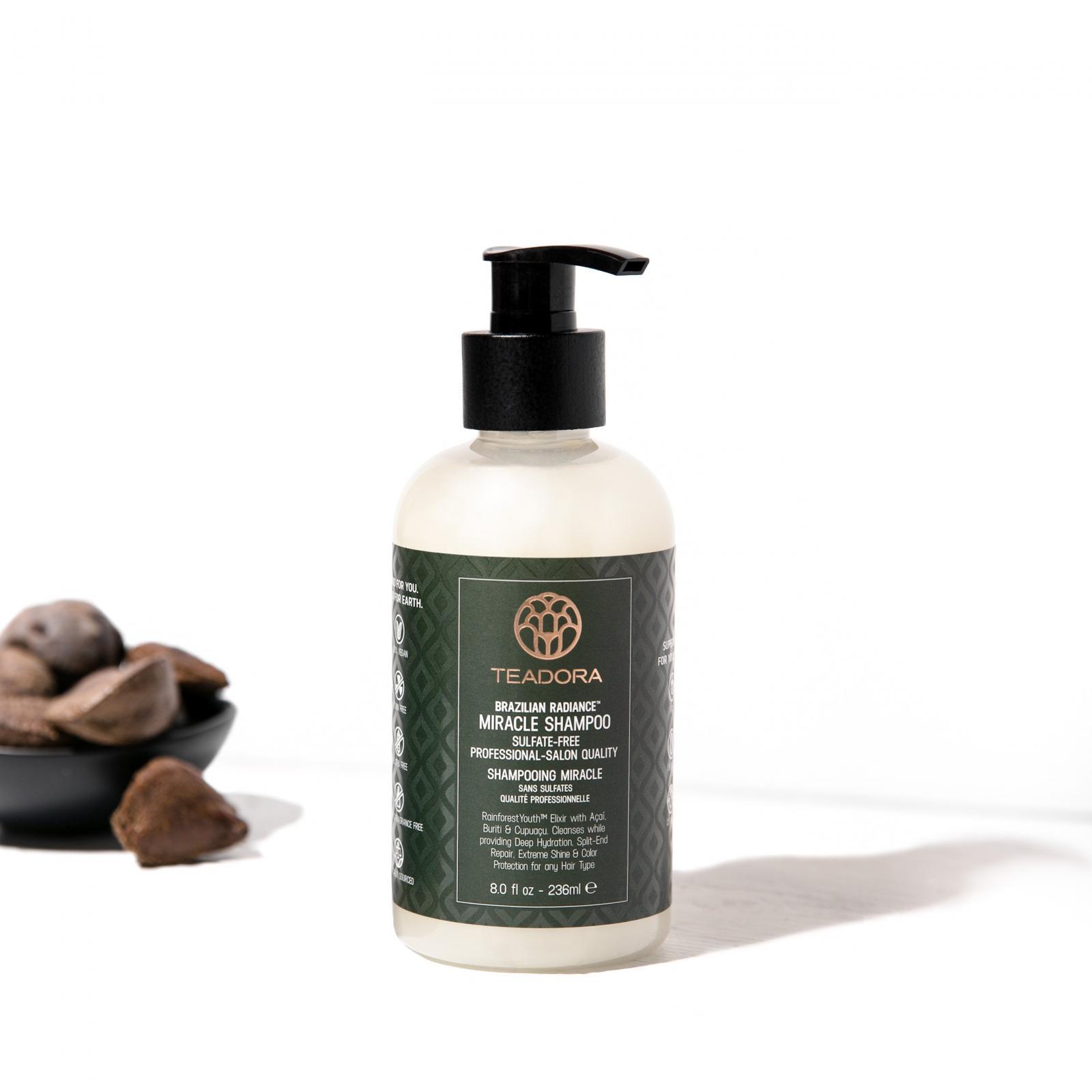 BRAZILIAN RADIANCE MIRACLE SHAMPOO. SULFATE-FREE.
Product Information
Have questions? Call:

866-839-8927
Details
More Info
Ingredients
About TEADORA
What it is

The sulfate-free, professional salon quality Brazilian Radiance Miracle Shampoo was crafted with our RainforestYouth Elixir ™ - a proprietary superfruit blend of antioxidant and vitamin-rich Açaí, Buriti, and Cupuaçu. These superfruits, plus other powerful plant-derived actives provide protection, extreme shine and intense moisture for any hair type. It also contains Argan Oil which makes hair softer, silkier and shinier. Enjoy our new 100% natural scent, Understory, a Citrusy Burst of Oranges & Lemon Grass that will awaken your senses.

Key benefits

Helps prevent split ends, prolong the life of hair color, provide great frizz control, restore damaged hair and protect against sun damage.
Adds shine and softness to any hair type.
Helps prevent split ends and prolong the life of hair color.
Restores and protects damaged hair.
Provides deep hydration.
Promotes scalp health.
Provides frizz control.
Buriti's anti-inflammatory properties support great scalp health.

How to use

How often you shampoo is a matter of personal preference, so we recommend you wash your hair as needed per your hair type.

We do not recommend shampooing every day, because the oils from the scalp do not travel down the hair shaft as quickly, so the hair tends to be dry and requires less frequent shampooing. For intense hydration, shine and softness lather in shampoo and massage gently. Repeat as many times as necessary until you hear that 'squeaky clean' sound. Rinse if off and then massage in conditioner, leaving it on for 2 minutes or so and rinse well.

For amazingly hydrated hair, massage our Brazilian Glow Radiance and Renewal Multi-Tasking Oil at the ends of your hair for shine and to reduce dryness and the appearance of split ends - Buriti oil is great for hair shine and hydration.

Açaí Oil stimulates hair growth, reduces hair loss, strengthens hair, and helps fight off free radicals from the hair by creating a protective barrier. These powerful elements work together to regenerate hair strands and enhance hydration.

Buriti Oil is an amazingly powerful ingredient. It contains the highest concentration of natural vitamin A among fruits and vegetables. It is also rich in Vitamin E, Vitamin C and antioxidants and has been used for generations as a natural UV ray protectant. Its amazing anti-inflammatory properties help to promote scalp health.

Cupuaçu is known as the king of the superfruits. One of nature's strongest moisturizers, it is rich in vitamins, antioxidants and essential nutrients that improve the elasticity and texture of hair.

Water, Cocamidopropyl Betaine, Glycerin, Sodium Cocoyl Isethionate, Certified Organic Cocos Nucifera (Coconut) Oil, Certified Organic Coconut Acid, Certified Organic Sucrose, Certified Organic Aloe Barbadensis Leaf Juice, Potassium Hydroxide, Cocamide MIPA, Panthenol, Phytic Acid, Hydrolyzed Soy Protein, Hydrolyzed Oat Protein, Mauritia Flexuosa (Buriti) Fruit Extract, Euterpe Oleracea (Açaí) Fruit Extract, Theobroma Grandiflorum (Cupuaçu) Seed Butter, Mauritia Flexuosa (Buriti) Fruit Oil, Guar Hydroxypropyltrimonium Chloride, Phenoxyethanol, Ethylhexylglycerin, Natural Fragrance.

Eco-chic, high-performance collection of vegan, toxin-free, cruelty-free, multi-tasking skin and hair care products crafted with magically potent exotic superfoods that bring new life to your skin and hair.
Customer Ratings & Reviews
Questions About this Product