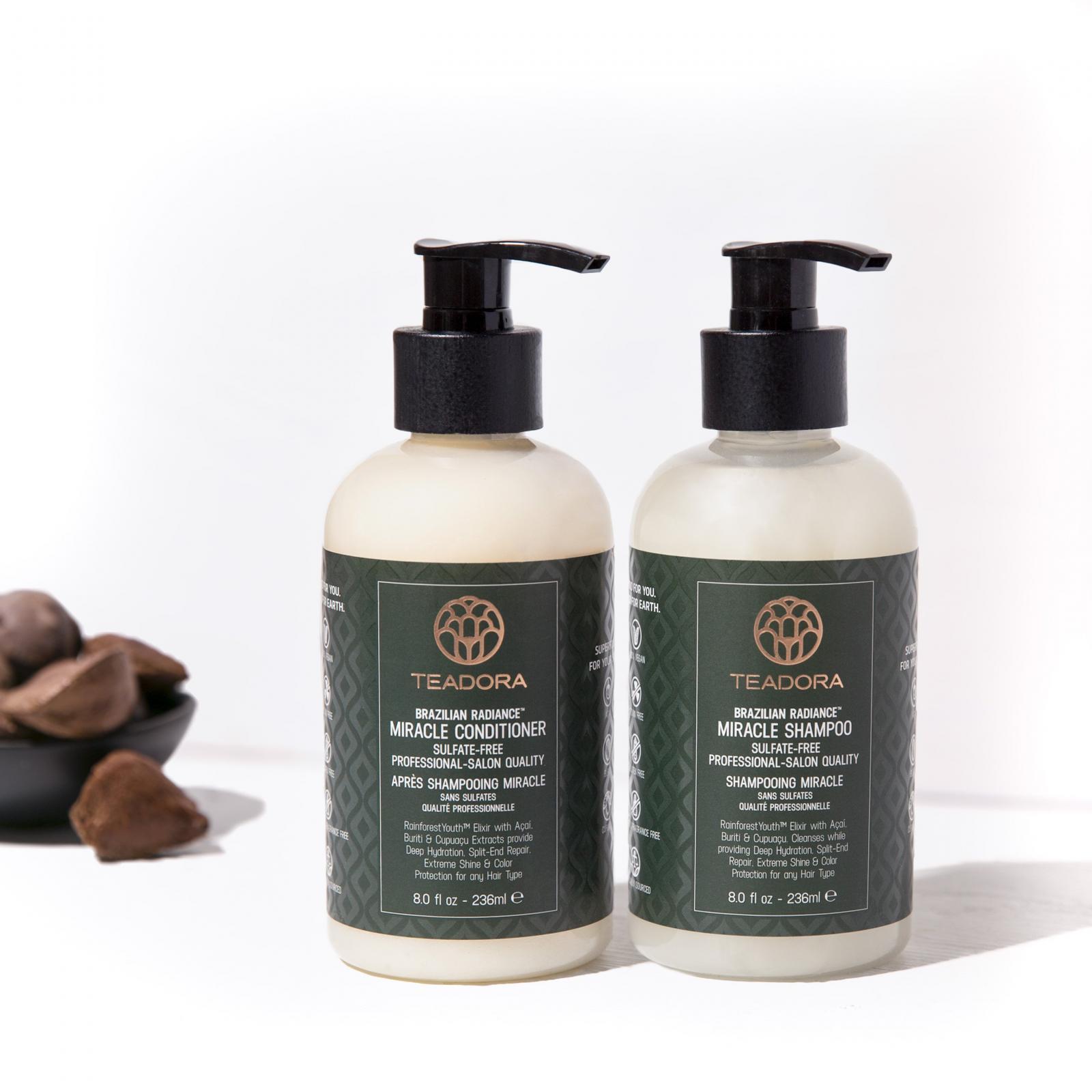 BRAZILIAN RADIANCE MIRACLE SHAMPOO & CONDITIONER SET. SULFATE-FREE.
Product Information
Have questions? Call:

866-839-8927
Details
More Info
About TEADORA
What it is

Winner of the "Best Natural Conditioner" by Prevention Magazine.
The sulfate-free, professional salon quality Brazilian Radiance Miracle Shampoo & Conditioner were formulated with our proprietary RainforestYouth™ Elixir, a blend of antioxidant and vitamin-rich Açaí, Buriti, and Cupuaçu superfruit oils for protection, extreme shine and intense moisture for any hair type. This haircare set also contains Argan Oil which makes hair softer, silkier and shinier. Enjoy our new 100% natural scent, Understory, a Citrusy Burst of Oranges & Lemon Grass that will awaken your senses.

Key benefits

Add shine and softness to any hair type.
Help prevent split ends and prolong the life of hair color.
Restore and protects damaged hair.
Provide deep hydration.
Promote scalp health.
Provide frizz control.
Help define curls without weighing them down.

How to use

For intense hydration, shine and softness lather in shampoo and massage gently. Repeat as many times as necessary until you hear that 'squeaky clean' sound. Then massage in the conditioner and allow its antioxidant and vitamin-rich ingredients Buriti, Açaí and Cupuaçu to nourish your scalp for deep hydration, shine, and softness. 

For amazingly hydrated hair, massage the Brazilian Glow Radiance & Renewal Multi-Tasking Oil at the ends of your hair for shine and to reduce dryness and the appearance of split ends.

Açaí Oil stimulates hair growth, reduces hair loss, strengthens hair, and helps fight off free radicals from the hair by creating a protective barrier. These powerful elements work together to regenerate hair strands and enhance hydration.

Buriti Oil is an amazingly powerful ingredient. It contains the highest concentration of natural vitamin A among fruits and vegetables. It is rich in Vitamin E, Vitamin C and antioxidants and has been used for generations as a natural UV ray protectant. Its amazing anti-inflammatory properties help to promote scalp health.

Cupuaçu is known as the king of the superfruits. One of nature's strongest moisturizers, it is rich in vitamins, antioxidants and essential nutrients that improve the elasticity and texture of hair.

Eco-chic, high-performance collection of vegan, toxin-free, cruelty-free, multi-tasking skin and hair care products crafted with magically potent exotic superfoods that bring new life to your skin and hair.
Customer Ratings & Reviews
Most recent reviews
Only used it once but I can already tell a difference

By Tori Nicole on Nov 06, 18
Questions About this Product