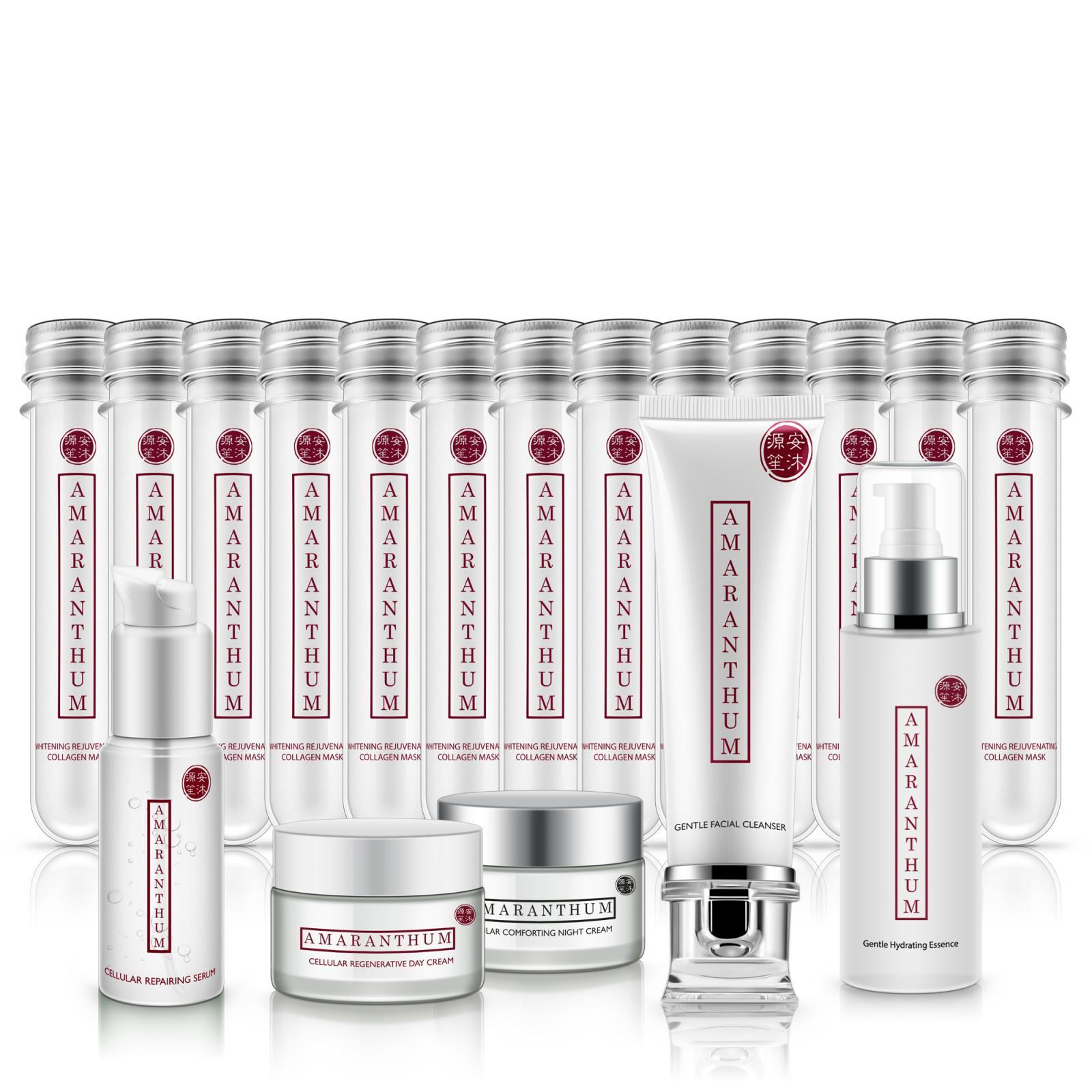 Amaranthum The 48 Day Cycle Set
Product Information
Have questions? Call:

877-778-5072
Details
Ingredients
About Amaranthum
What it is

The 48-Day Cycle is our special kit that works best to eliminate wrinkles, acne scars, dark circles, sensitivity, and clogged pores. The 48 Day Cycle is a biologically confirmed regiment that includes the use of 20 masks total, which covers the Permeation Stage (details below). The result of our cycle sets the foundation for your skin's firmness, purity, and rejuvenation. To achieve optimal results in a timely manner, this kit includes all the necessary products in our line that will supplement the functions of our masks.
Our set includes:
- 20 Whitening Rejuvenating Collagen Masks
- 50ml Gentle Facial Cleanser
- 30ml Cellular Regenerative Day Cream
- 30ml Cellular Comforting Night Cream
- 25ml Cellular Repairing Serum
- 100ml Gentle Hydrating Essense

Key benefits

- Eliminates wrinkles, acne scars, dark circles, sensitivity, and clogged pores
- Firms, purifies, and rejuvenates the skin
- Anti-aging
- Skin Tone Balancing
- Cell Regeneration
- Oil-Water Balancing
- Pore Refining
- Anti-Inflammation
- Brightening and Dark Spot Removing
- Moisturizing
- Collagen Regeneration

How to use

Stage 1:The infusion stage offers the most intensive treatment to fatigued and problematic skin. During this stage we recommend using the Whitening Rejuvenating Collagen Mask daily for six consecutive days to achieve MiriatinTM's maximum restorative power.
Stage 2: The repairing stage is the essential phase during which the healthy flow of nutrients among six layers is established, and the skin's self-repair process is revitalized. Using Whitening Rejuvenating Collagen Mask once every other day for a period of 14 days helps unleash the skin's vitality.
Stage 3: The blooming stage is the nourishing phase that helps to consistently stabilize skin's pH balance, oil and water balance, and metabolism balance as your skin concerns disappear.
Stage 4: The maintaining stages helps to maintain your skin perfection by applying the Whitening Rejuvenating Collagen Mask just once a week. To avoid the appearance of sagging, wrinkles, and dark spots on your skin and fight against aging concerns, please persistently use this mask in order for your skin to stay in a glamorous state forever.

1.Why do I have to use Amaranthum skin care products as a set?
Based on our scientific experiment, the 48 Day Rejuvenating Program is designed to follow body cell metabolism cycle and it allows the skin cell to absorb the nutrients more easily and quickly.

2. Can I wear makeup while using the Whitening Rejuvenating Collagen Mask?
We don't recommend you to use any foundation or other facial makeup that contains chemical components while using the mask. However, you can wear eye and lip makeups at the same time.

3. Do I need to use the 48 Day Rejuvenating Program?
Yes, it is the best choice for people chasing perfect skin through natural ingredients.

4. How to apply the masks?
After washing your face with Gentle Facial Cleanser, open the mask packet and deposit the powder into your elastic bowl. Take 21 grams of water with the measuring cup, and add into the bowl. Quickly stir until the powder gets a thick yogurt texture. Apply the mask evenly onto all surfaces of the face quickly, including eyebrows, eyelid, and under eye area. Lay down in bed for 30-40 minutes for maximum results. The mask will harden and in 40 minutes, take a wet soft cloth and place onto your face. The water from the towel will soften the mask, making removal quick and easy.

- Forsythia Suspensa
- Liquorice
- Malt
- Menthol
- Sophora Flavescens
- Ginseng
- Leonurus Sibiricus
- Fructus Cnidii
- Rhodiola Sacra
- Rose of Jericho
- Kelp
- Pearl Powder
- Ginkgo
- Wolfiporia Extensa
- Salvia
- Scutellaria Baicalensis
- Panax Notoginseng
- Asteriscus
- Chameleon Plant
- Aloe

Traditional Chinese herbs meet innovative for a new vision of beauty in Amaranthum products. With a high concentration of herbal essences, Amaranthum reimagines and revitalizes skin.
Customer Ratings & Reviews
Questions About this Product